ROSATI MEDIA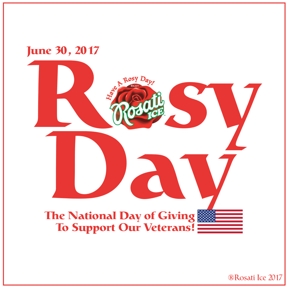 This Friday, June 30, 2017 will be the first annual Rosy Day, conceived to become a national day of giving to veterans organizations (similar to Cyber Monday or Giving Tuesday).

Rosati Ice will be handing out FREE samples this Friday, June 30 at 1:00pm until we run out at Broad & Sansom St., Philadelphia. During the pop-up giveaway, Rosati will be giving out its popular AMERICAN HERO (strawberry lemonade flavor) italian ice.

Rosy Day will be held each year on the Friday before the 4th of July. This first year's proceeds will benefit Soldier Strong, an organization that raises money for bionic suits to help severely injured/paralyzed veterans walk again. SoldierStrong representatives will collect donations at the giveaway and you can also donate at SoldierStrong.org.

Rosati Ice welcomes any and all veterans' organizations that would like to participate in Rosy Day to do so, whether they join us at the giveaway or simply utilize Rosy Day and its logo in their fundraising on June 30.

Our official media partner is Today's 96.5-FM radio in Philadelphia. Rosati Ice remains dedicated to helping veterans and first responders by donating a portion of our sales of American Hero to various non-profit organizations.
We hope to see you on Rosy Day at Broad and Sansom in Philly. Or hop online and donate at SoldierStrong.org or another Veterans' organization supporting Rosy Day 2017! Spread the word #RosyDay
*****************
Rosati Media Day
We visited our Philly radio morning show friends on May 25th, 2017

WMMR 93.3 FM - Classic Rock - 7: 15 AM
Marilyn Russell - WOGL 98.1 - 8:15 AM
Rise N Grind Morning Show - WUSL - Power 99 FM - Interview with Rich Trotter at 8:30 am 5/25/17
Today's 96.5 - 8:15 AM
WMGK - The John DiBella Show
WIP - 94 FM - Sportstalk - 8 AM
WXTU - 92.5 FM - Country - 8 AM
WYSP - 102.9 FM - Classic Rock - 7 AM
*********************
ARTICLES

Food & Beverage magazine included this article about our school seasonal ice cups. Read on ;-)
"Read all about it"!Peg won her second award for her Business Coverage article about Rosati Ice.
Congratulations to Peg DeGrassa, Senior Editor, and the Delco News Network team for winning 12 Philly Press Awards.


"Pumpkin and Eggnog" - Gluten Free Philly recognizes Rosati Ice holiday flavors:" Breaking the Ice "
PhillyMag tried it and liked it
VIDEOS
Our Power 99FM friends on YouTube and thanks to Kathleen Carey for the terrific article!

GOOD NEWS
We teamed up with Hybrid-Cycles to offer a Free E-bike to a deserving veteran.
We definitely found a most deserving winner. Watch the short presentation video.
Rosati on the Radio
We're visiting our Philly radio morning show friends on May 25th, 2017. Listen up!

Preston & Steve Show
Marilyn Russell
John DiBella Show
Rise & Grind show
The Fanatic team

Over 100 Years Young and Growing